Warm weather has arrived and summer is in full swing! Welcome the sunny season and prep for summer shindigs galore by stocking the perfect bar cart. Read on for a list of summer bar cart essentials and a few summer cocktail recipes to add to your repertoire!
Choose a Bar Cart
Make a statement by choosing a stylish bar cart as your base.
Top Left: White Roll Trolley / Top Right: Off-White Juno Bar Cart / Bottom: Capucine Luxembourg Bar Cart
Stock It Up!
Our friends as Berkshire Mountain Distillers helped compile this list of must-have bar cart staples so you'll always prepared for summer get-togethers!
Liquor
Whip up just about any cocktail with this variety of liquor recommendations from Berkshire Mountain Distillers.
Round out your liquor selection with a great scotch and Tequila. BMD recommends Macallan Scotch and Casamigos Blanco Tequila.
Bitters
Adding a dash of these highly-concentrated tinctures can add complex flavors and balance to most cocktails! Try coffee, falernum and wormwood bitters to start.
Aperitifs
Aperol: A slightly alcoholic, bitter orange Italian aperitif
Compari: A fruit and herb-infused Italian aperitif
Vermouth: An aperitif used in popular drinks like dry martinis and Manhattans. Berkshire Mountain Distillers recommends Carpano Antica.
Odds & Ends
Don't forget these bar cart essentials:
Cocktail Shaker
Vegetable Peeler
Muddler
Jigger
Strainer
A classic, uncomplicated cocktail book. We like this one!
Lemons, limes, olives, cherries, simple syrup, herbs for garnish
Glasses: Rocks, martini, highball… BMD suggests Cocktail Kingdom for barware.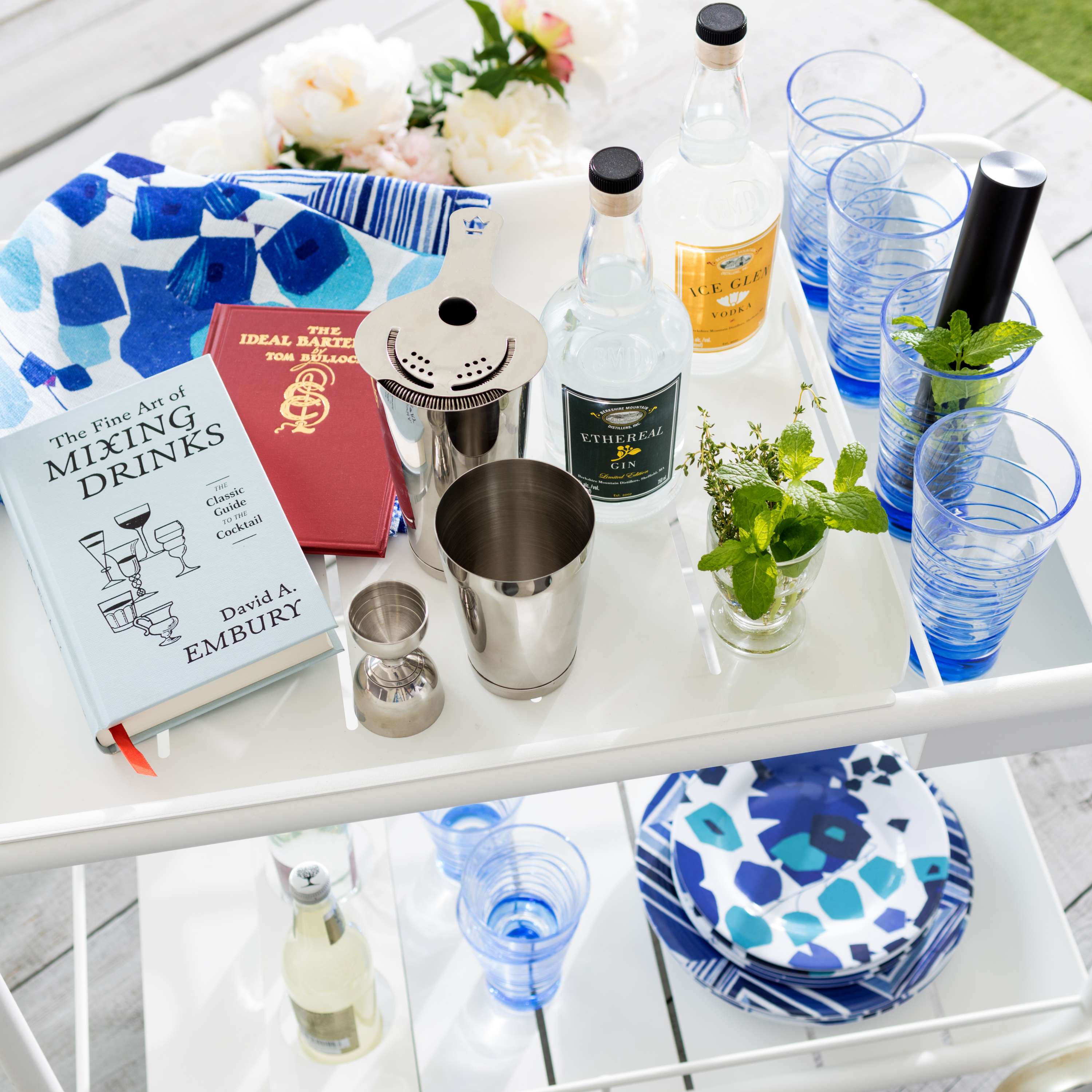 Summer Cocktail Recipes
These must-try recipes are delicious and oh-so-summery!
Cucumber Fizz
2 slices of thickly cut cucumber
1½ oz Ice Glen Vodka
½ oz St. Germain
½ oz lemon juice
½ oz simple syrup*
Soda water
Cucumber slice, mint or lemon
-Muddle cucumber and lemon.
-Shake all ingredients with ice and strain into a Collins glass with fresh ice.
-Top with soda water. Garnish with a cucumber slice, mint or lemon.
*Simple syrup is optional. Try making one without it and add if desired.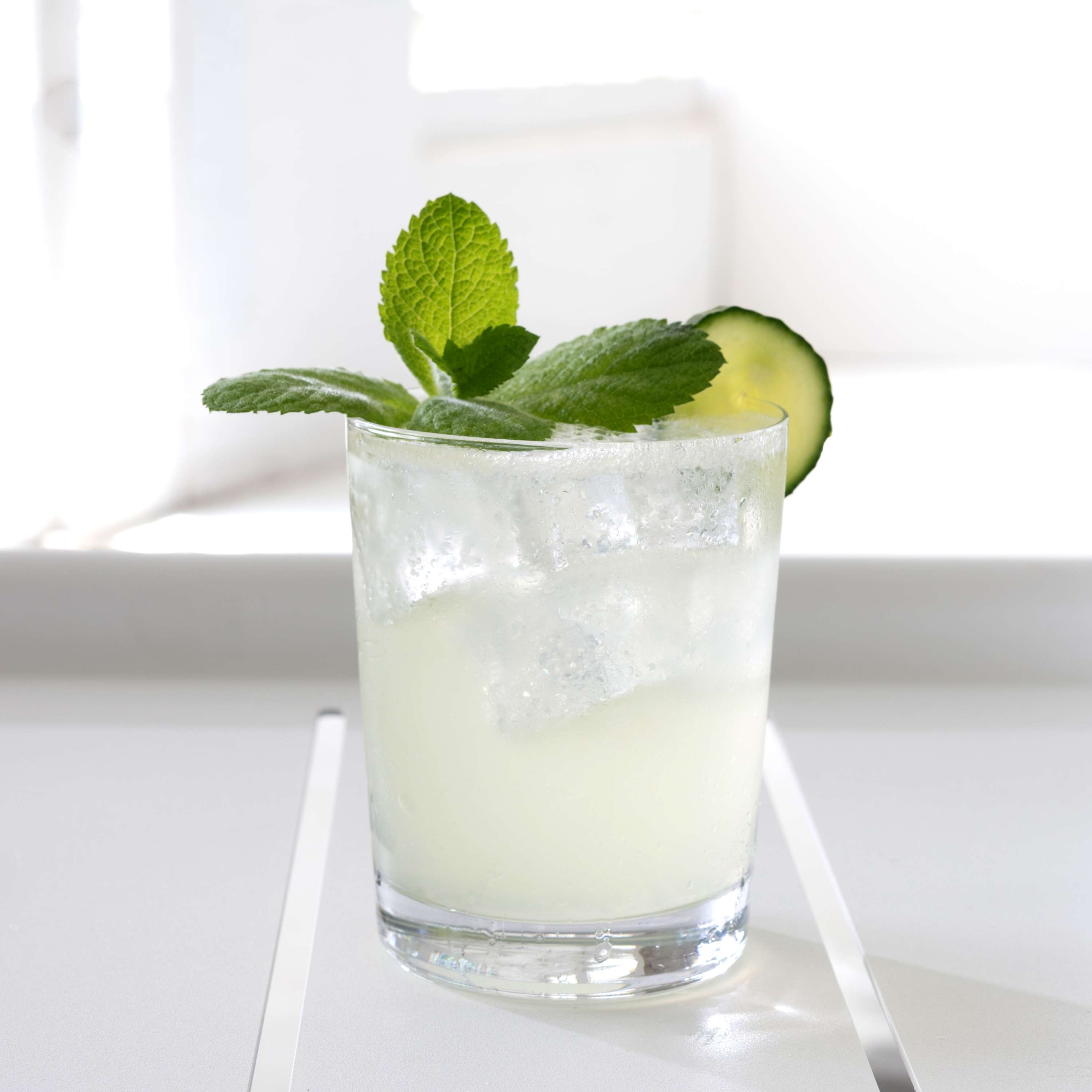 French 75
1 oz Greylock or Ethereal Gin
¾ oz Simple syrup
½ oz fresh lemon juice
Champagne
Lemon twist
-Shake all ingredients (except champagne) with ice and strain into a chilled champagne flute. Top with champagne. Garnish with lemon twist.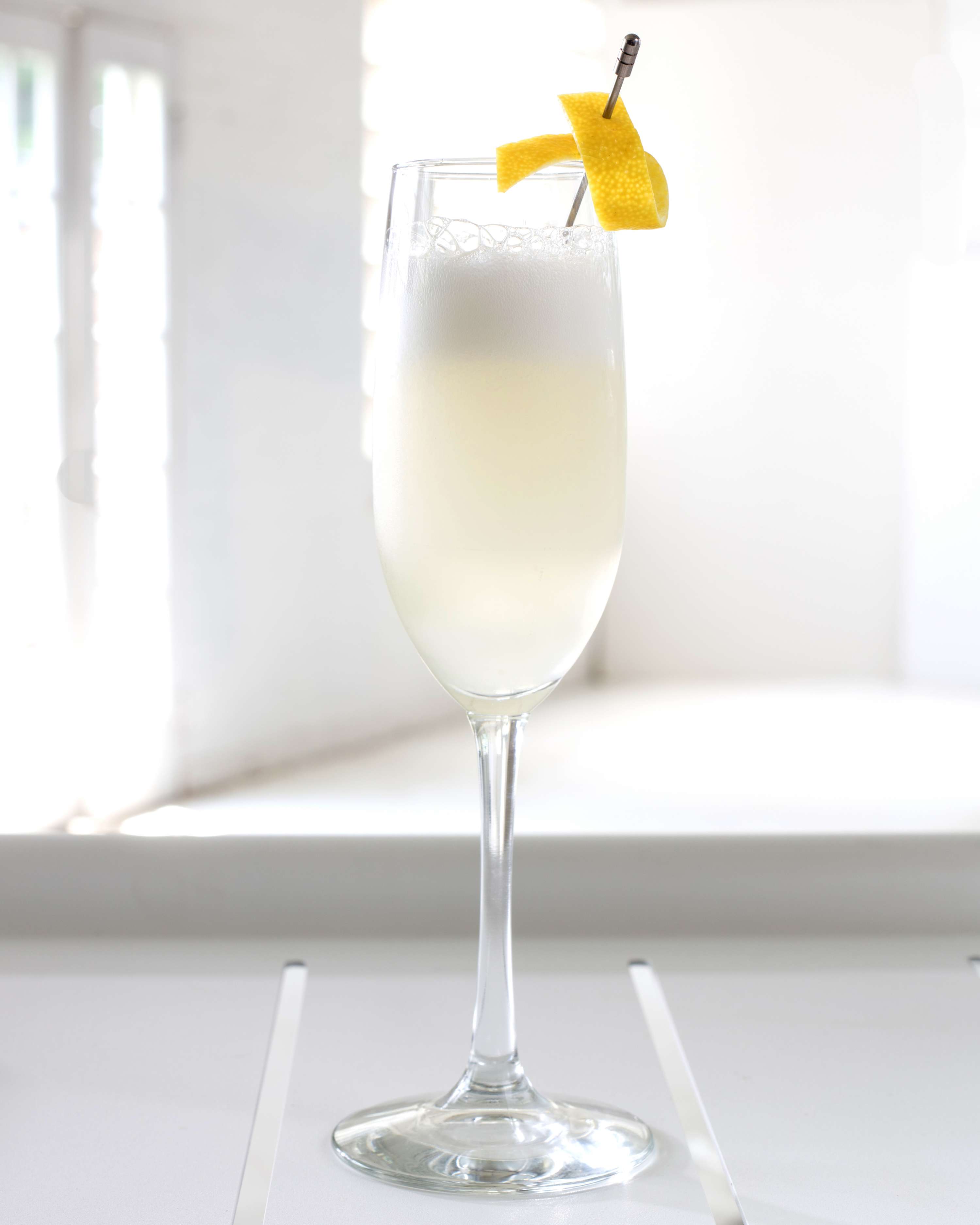 Strawberry Ginger highball
1½ oz Ragged Mountain Rum
¾ oz fresh lemon juice
¾ oz Simple Syrup
2 fresh strawberries
2 Slices of ginger
Ginger beer
-Muddle one strawberry and one slice of ginger in mixing glass.
-Shake remaining ingredients (except ginger beer) with ice and strain into a Collins glass with fresh ice.
-Top with ginger beer. Garnish with strawberry and mint.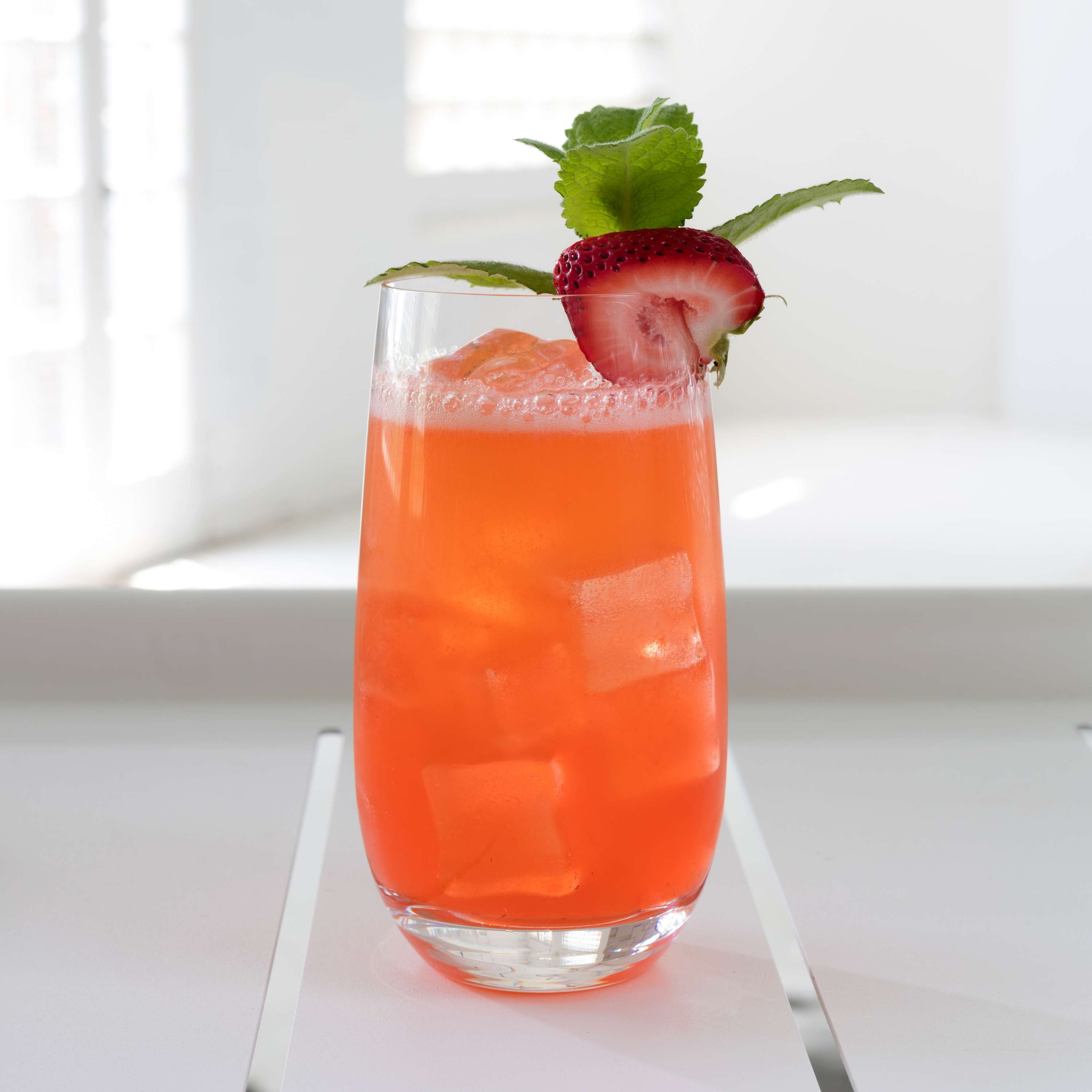 Vodka Thyme Lemonade from Jean Georges – Annie's favorite summertime cocktail!
3 Lemon Wedges
Granulated Sugar
2 oz Ice Glen Vodka (Jean Georges used Ketel One Citroen but we love it with BMD Vodka).
2 oz Lemon-Thyme Syrup
1 Splash Club Soda
1 Sprig Fresh Thyme, preferably lemon thyme
-Run 1 lemon wedge over the rim of a 12 oz highball glass; dip the rim into sugar. Reserve the lemon wedge.
-Put the remaining 2 lemon wedges in a cocktail shaker. Muddle hard, breaking the lemon skins to release their oils. Add Syrup, Vodka and Ice. Cover and shake.
-Pour the mixture into the sugar-rimmed highball glass, lemon wedges and all.
-Top off with club soda, the squeeze the reserved lemon wedge over before dropping it into the glass. Garnish with the thyme sprig and serve immediately.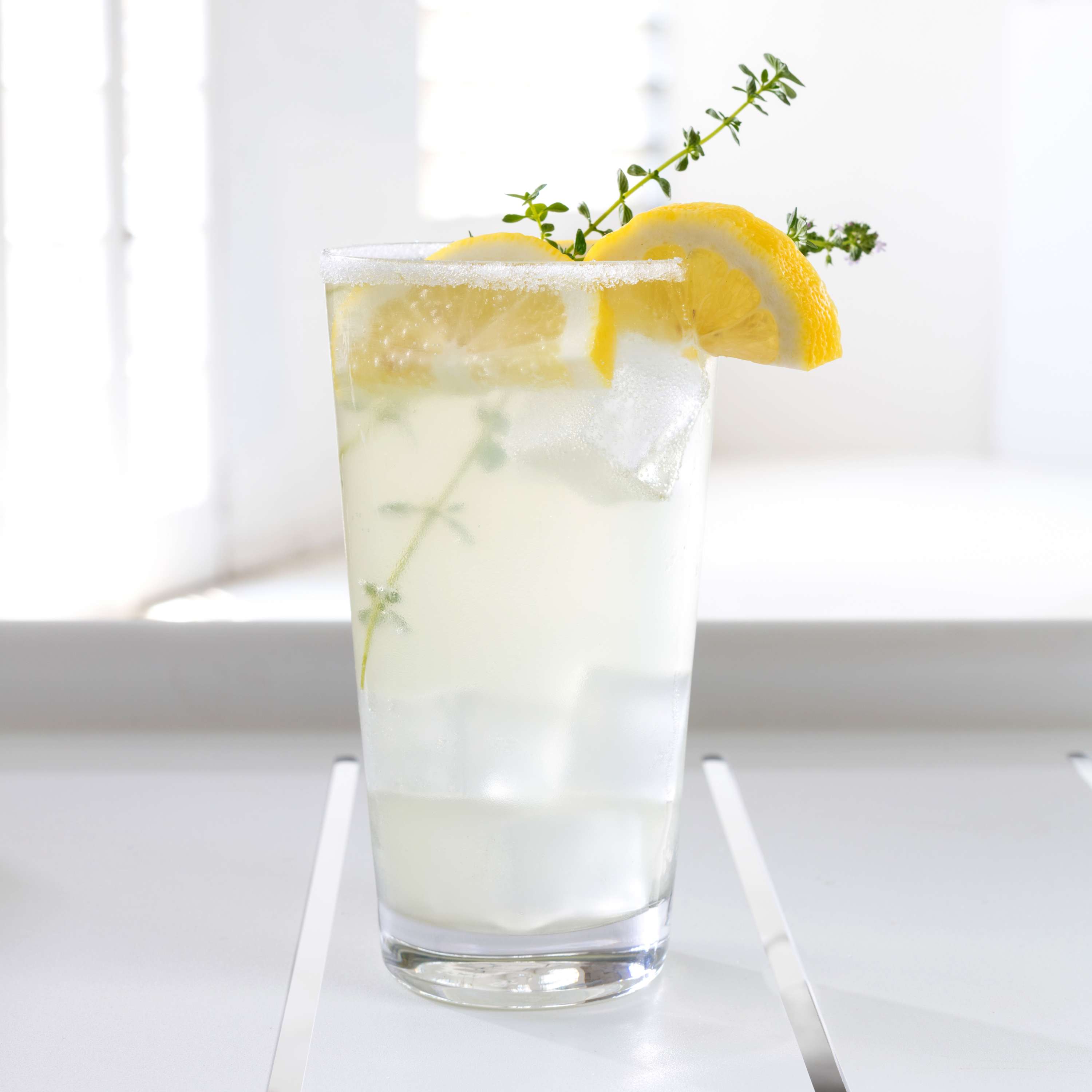 Lemon-Thyme Syrup (Makes 1 cup)
¾ cup sugar
1 small bunch fresh thyme, preferably lemon thyme (1/2 ounce)
-In a small saucepan, heat 1 cup water and the sugar to boiling, stirring to dissolve the sugar. Add the thyme, remove from the heat, and let stand until cool. Strain through a fine-mesh sieve, pressing to extract as much liquid as possible. Cover and refrigerate for up to 3 days.
Was this article helpful?