When it comes to decorating outdoor spaces, it's important to make sure your al fresco areas are just as cozy, comfortable and stylish as your favorite rooms inside! Choosing your decor can be difficult, though, and so is deciding how you want to arrange everything. We're showing you how three design aficionados used our products to make their patios, porches, balconies and backyards off-the-charts gorgeous and ready for warm-weather hang outs. Scroll down for a little inspiration and a few tips on how to get your outdoor space looking Instagram-ready in no time!
A Blue & White Oasis
Interior Designer, Author and Television Host Emily Henderson recently moved into a beautiful new home in Southern California, but we couldn't help but look back on this stunning patio design at her former abode, featuring our Samson Navy Indoor/Outdoor Rug.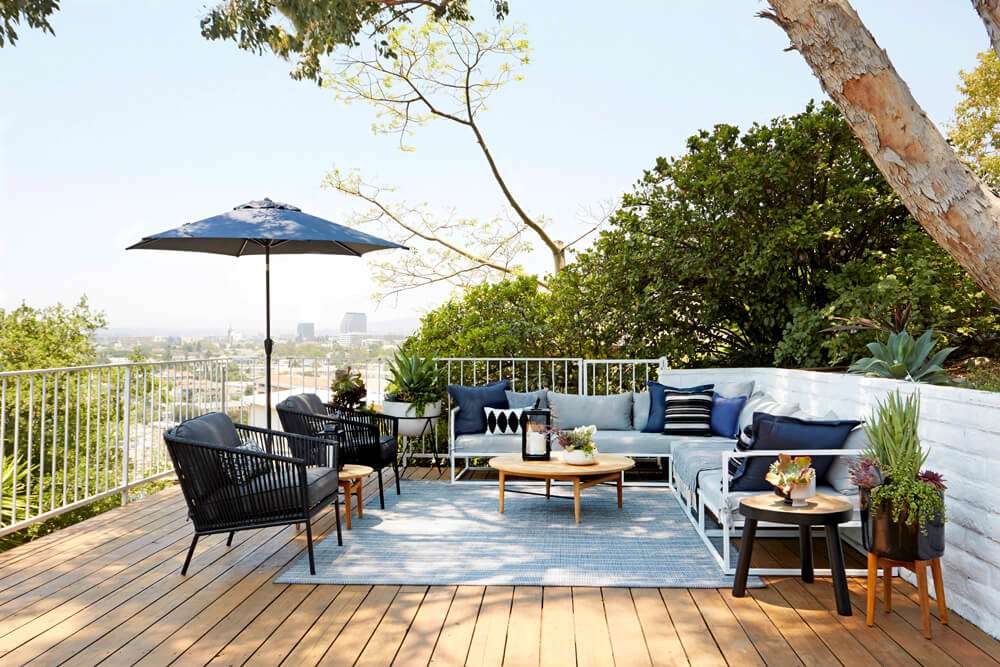 Photo via Emily Henderson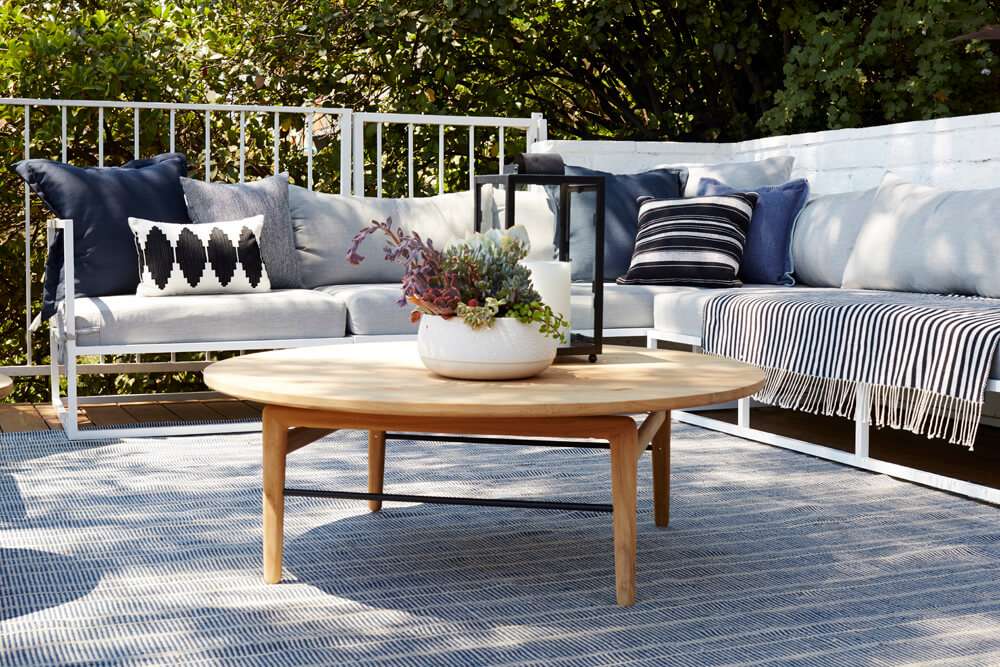 Photo via Emily Henderson
In this space, Emily mixed varying hues of blue and indigo along with pops of white and natural elements, like the wooden tables and tropical plants. The backbone to her design is a timeless and durable indoor/outdoor rug — the perfect element for any outdoor place! Our Samson Navy Rug is a workhorse, made of virtually indestructible PET, so it's suitable for wet weather, sunny days, food and drink spills and muddy footprints. Bring on the summer soirees!
Takeaways from This Design:
Ground your space with a durable indoor/outdoor rug
Choose a color palette and run with it! Accessorize with pieces in varying shades of your chosen hue
Mix in natural elements: wood, greenery etc. for warmth and interest
Family-Friendly Porch
Design Blogger Rachel Shingleton revamped her porch last summer just in time for family hang outs on that dreamy bed swing!
Photo via Pencil Shavings Studio
She wanted the space to be colorful and family-friendly; durability was key. Rachel chose to add in pops of orange and blue on her white swing with a bevy of indoor/outdoor pillows in varying patterns and shapes.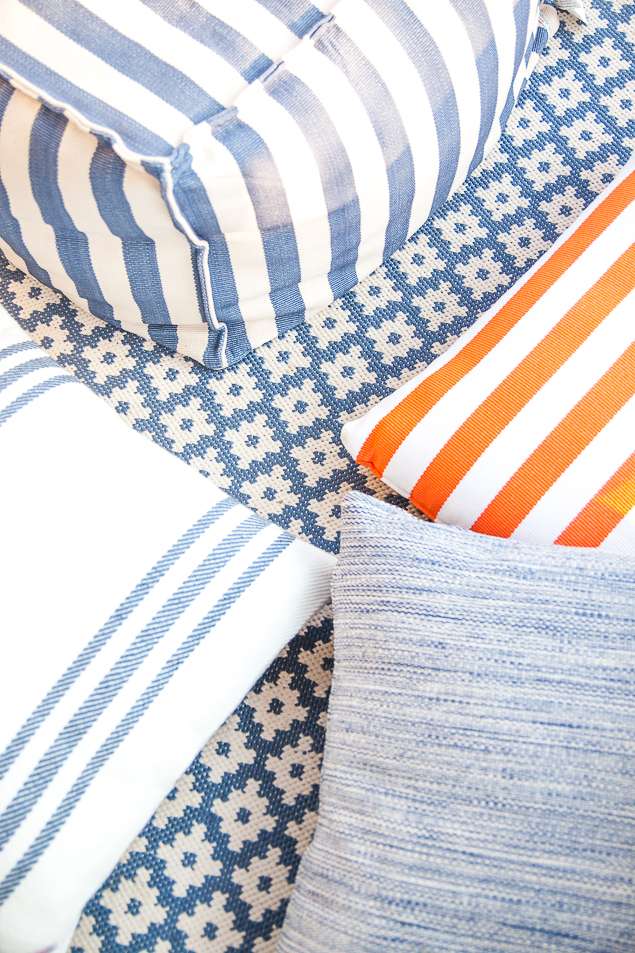 Photo via Pencil Shavings Studio
Continuing her blue and orange/coral theme, Rachel rolled out our Samode Denim Indoor/Outdoor Rug, added extra seating with a few of our poufs, and as the finishing touch, Rachel added a chic bar cart to stock her summer party essentials.
Takeaways from This Design:
Get creative with color! Mix and match complementary hues for visual appeal and whimsy
Up the cozy factor with lots of indoor/outdoor pillows and comfy poufs for extra seating
Incorporate a bar cart to hold your favorite snacks and beverages
An Easy Patio Spruce  
Lifestyle Blogger Julia Dzafic freshened up her patio this spring with a few colorful and fun indoor/outdoor items, readying it for the many barbeques and warm-weather gatherings planned for the summer season.  To ground the outdoor space, Julia chose our preppy and colorful Samode Indoor/Outdoor rug in Fuchsia. As you can see, her adorable pup Boots was a fan of the new addition!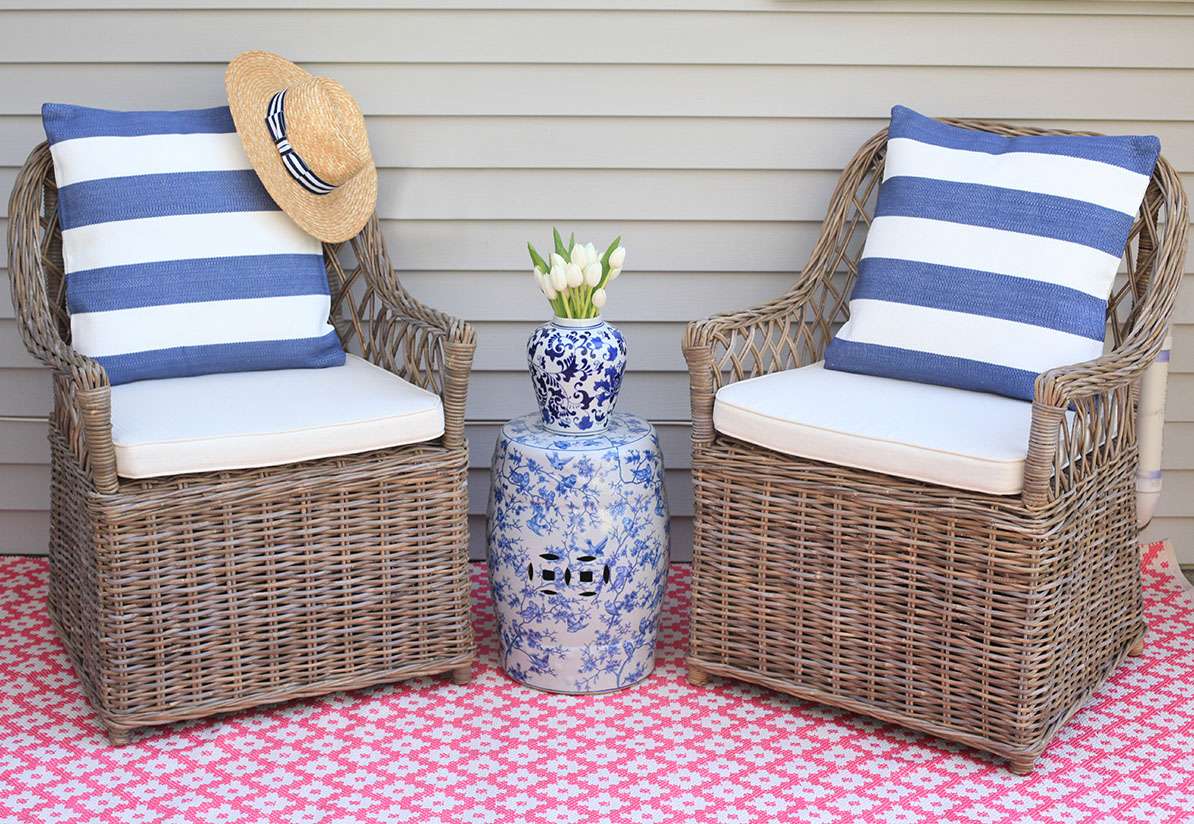 Photo via Lemon Stripes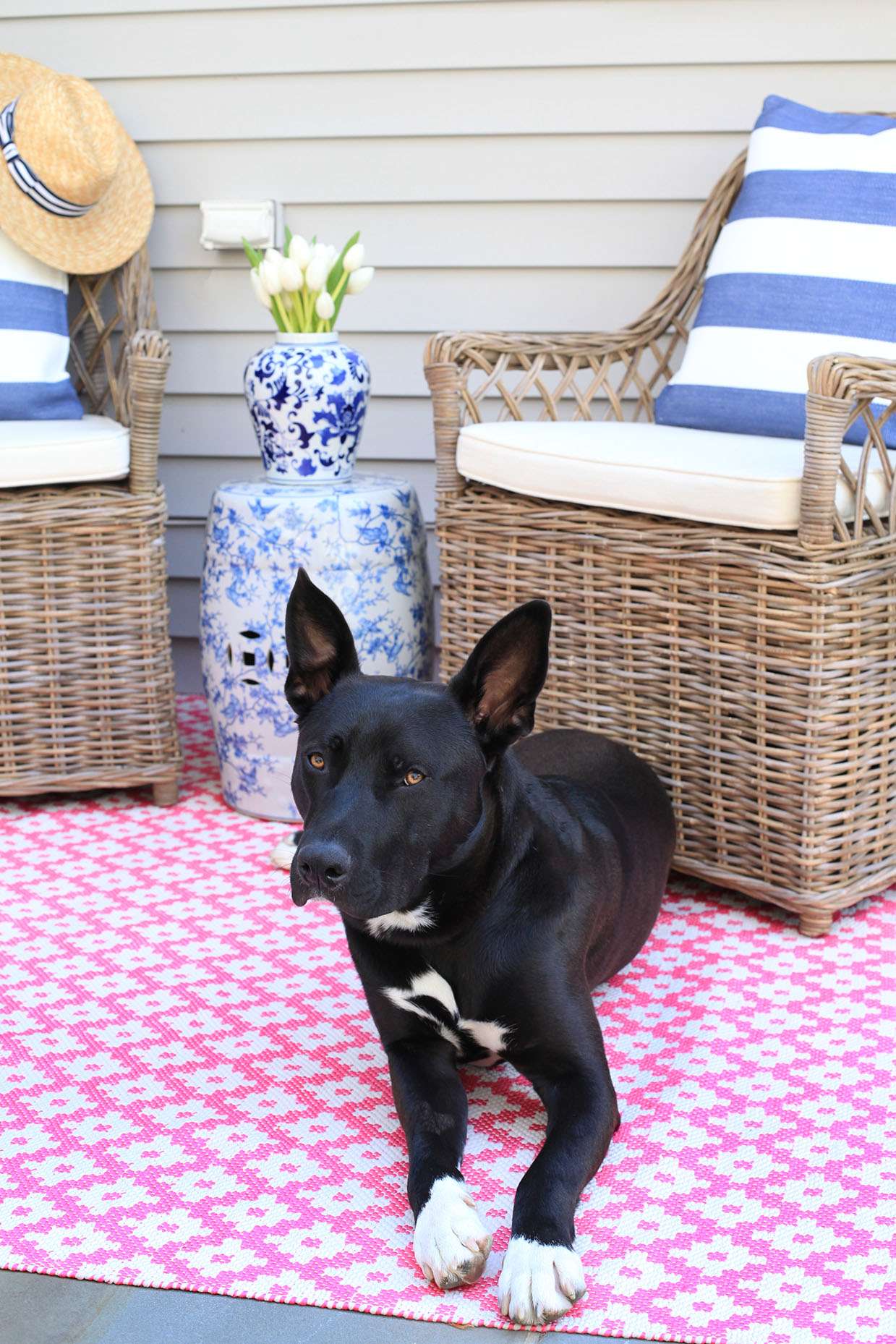 Photo via Lemon Stripes
Julia chose a contrasting hue, deep navy, for accessorizing, adding our Catamaran Striped Pillows to her existing wicker chairs, both in her seating area and around her outdoor dining table.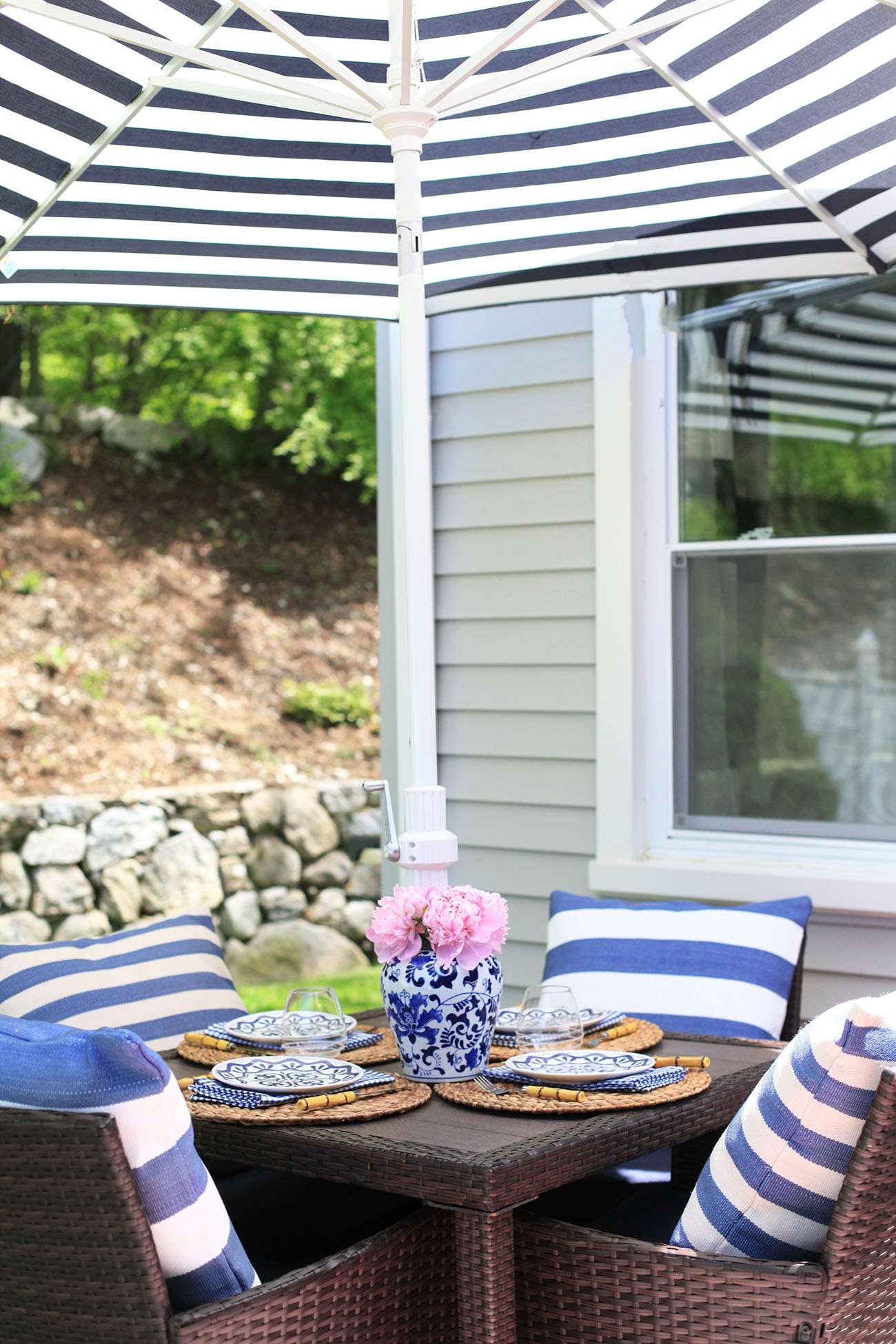 Photo via Lemon Stripes
We love how quintessentially New England this patio looks, and all it took were just a few additions of color and pattern to really make it stylish and extra-inviting.
Takeaways from This Design:
Don't be afraid of mixing patterns
Go bold with your rug! A punchy color combined with a fun pattern can work wonders to ground your space
Decorating your outdoor space doesn't always have to be a complete overhaul! Making small changes can go a long way when you choose the right pieces
Ready to start shopping? Explore our selection of poufs, pillows, and rugs and start creating your own outdoor oasis! Be sure to show us your newly-designed spaces on social media using #AnnieSelkeStyle. Happy decorating!
Was this article helpful?