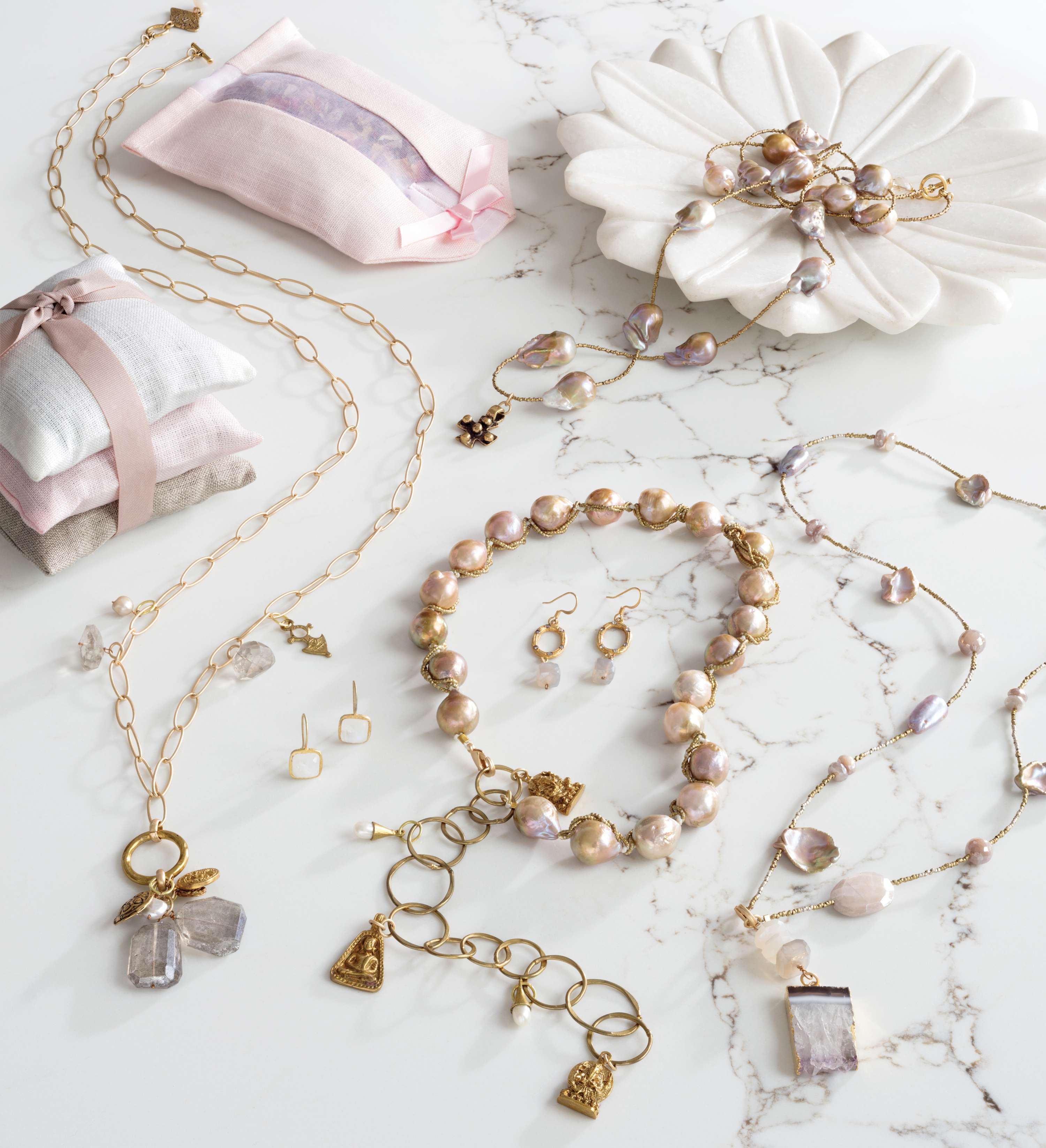 Allow us to introduce you to Laurie Lenfestey, designer and owner of Bittersweet Designs. If you haven't noticed by now, we've fallen head over heels with Laurie's unique designs and have partnered with her to create a curated collection of pieces, each handpicked by Annie.
Laurie sat down to talk about her inspirations and approach to design. Scroll down to learn more about her process and how she works her jewelry-making magic.
Q: Where do you get your inspiration from?   
A: Nature, travel and family inspire me. Being in nature makes me happy—long sunrise ocean walks with family, hikes high in the Santa Fe hills, or gardening in my backyard. Movement has always stilled my mind and allowed the space for creativity to flow. Life is a journey, and the joy is in the movement of here to there, so often hiking shakes my creativity free and the magic is born.
I also love collecting elements from nature ~ seashells, feathers, heart rocks. I'm a very visual person so I have endless glass containers of components scattered around my home ~ happy reminders of happy memories.
Travel inspires me.  Last fall, Morocco amazed me with its colors and textures. A wonderful trip to Rome and Ireland with my son "filled the well". The countryside of Ireland was exquisite. The misty grey skies set against ancient grey rocks with lichen and moss caught my eye, as I have always loved monochromatic texture. The ancient cathedrals in Rome and the endless history spoke to me. I have used snippets of each trip in my designs.
Q: What is your favorite material to work with? 
A: Too many to name!  but always my favorites are elements with personality, mostly with a spiritual nod or a calming energy. I have always loved Labradorite for its manifesting qualities as well as pearls for the calming reminder of the ocean.
Q: Do you have a piece that is your personal favorite?    
A: My current favorite necklace that I wear daily is the blessings necklace, It's that "classic with a twist" that I love…an offshoot of an old fashioned charm bracelet. It is adorned with a smattering of charms and pendants from different cultures and religions. : a third eye to remind me of the power of intuition, a vintage Turkish coin, an ancient Ethiopian telsum, a reproduction of a vintage roman coin, a Hamsa for good health, a pearl for wisdom.
I usually wear many pieces–sometimes as many as ten. The necklaces are great "team players" so they "play well with others" and are designed to be worn layered.
Q: What is your favorite type of piece to create? 
A: I have always loved collage. I love putting things and textures together, whether it be a dinner party, a home, a vacation or a necklace. Finding the perfect balance is where the magic lives–mixing old and new, pairing the unexpected with the expected, the vintage Ethiopian pendant with Tahitian pearls and sapphires…joining the raw and the refined…bittersweet is all about finding the right balance. Ultimately, I strive to create necklaces that are "classic with a twist".
Q: How has your creation process evolved over time?
A: I started with collage, in my guesthouse in the early morning hours before my children went off to school. I still wake early and that is my most creative time, before the world wakes up and I face the realities of the day.
When I first started Bittersweet, I was designing a paper line, using vintage cabochons that I would find while combing through the old warehouses in my native Providence, Rhode Island (once the jewelry capital). Ages ago, I fell in love with this milky blue vintage rosary with the most beautiful patina–I bought all 200 + pounds!
I have a habit of buying what I love– and figuring it out later! Because my aesthetic is very consistent and organic, I find these impulse buys always work, leading me deeper into my vision. For example, that impulsive purchase birthed the very first necklace I designed– a leggy 6-foot experiment that continues to be one of our best sellers, the extra-long ethnic.
That same summer, while sifting through New York's Garment District, I found a batch of amazing, sparkling Czech glass buttons. I like repurposing elements. While I was in my studio one earIy morning, I strung them into the button briolette, a signature Bittersweet necklace…and, I wore that necklace every day for almost five years!
Photography was my first creative process when my children were young. Photography then inspired my daily collages for William and Olivia. The photography led to the collage which led to the card line then the wedding and baby line which ultimately led me to designing jewelry.
Q: How many pieces do you work on at one time?
A: When I'm not traveling, I create at least one new piece every week. I love that I can sit with my work in my showroom on Canyon Road–it really helps to see people's reactions. While away, I'm always searching for stones and ideas, sketching and doodling. Inspiration is everywhere.
Check out our curated collection of jewelry, available here!
Was this article helpful?