While you may generally shy away of the idea of rugs in your kitchen due to the (inevitable) possibility of spills and other messes, incorporating a rug or two into your kitchen design is the perfect way to add warmth, character and color to the heart of your home.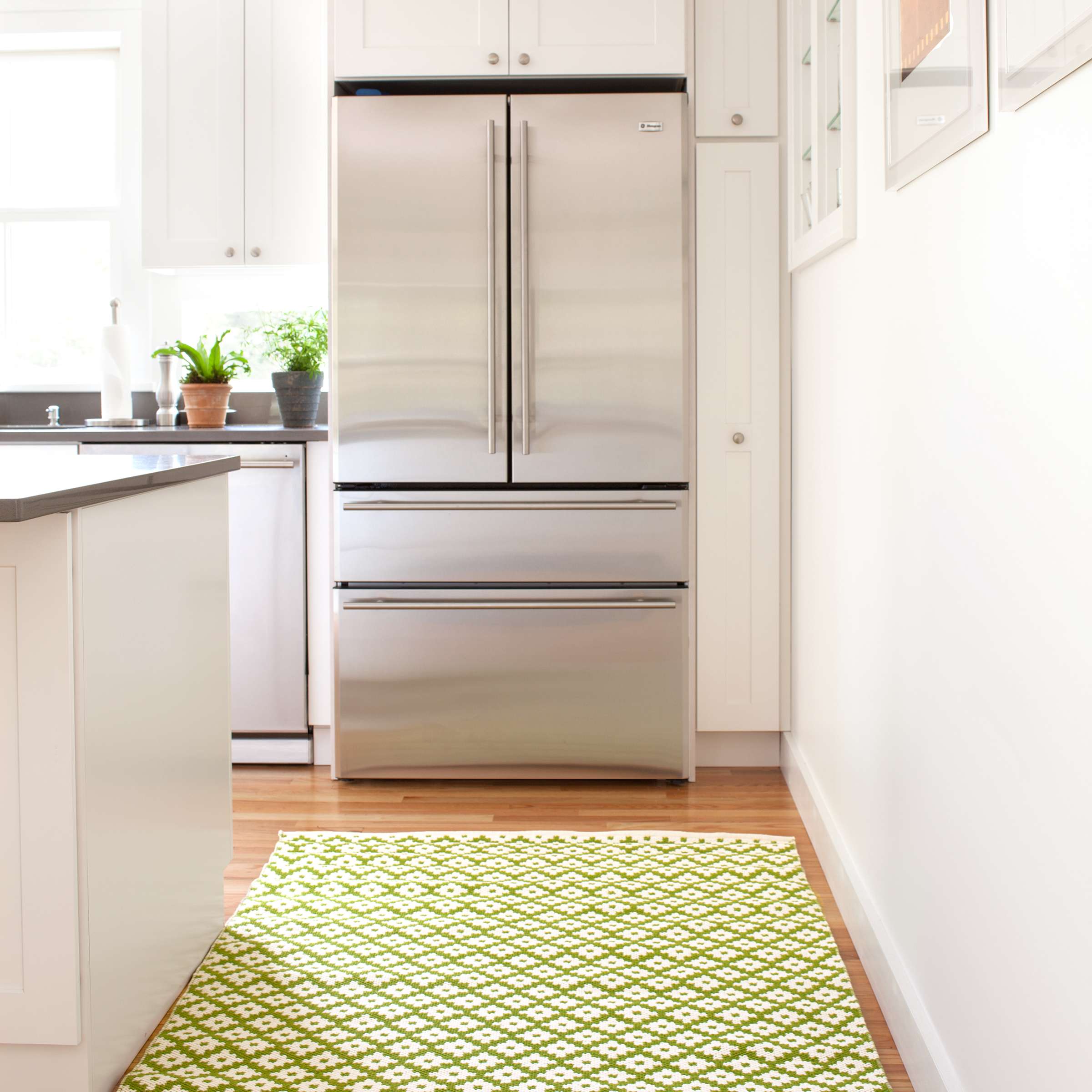 Kitchen rugs also add a nice amount of cushioned comfort underfoot and help combat slippery floors! If you're worried about spills, it's all about choosing the right construction. Read on for three tips to help you choose the perfect rug for your kitchen.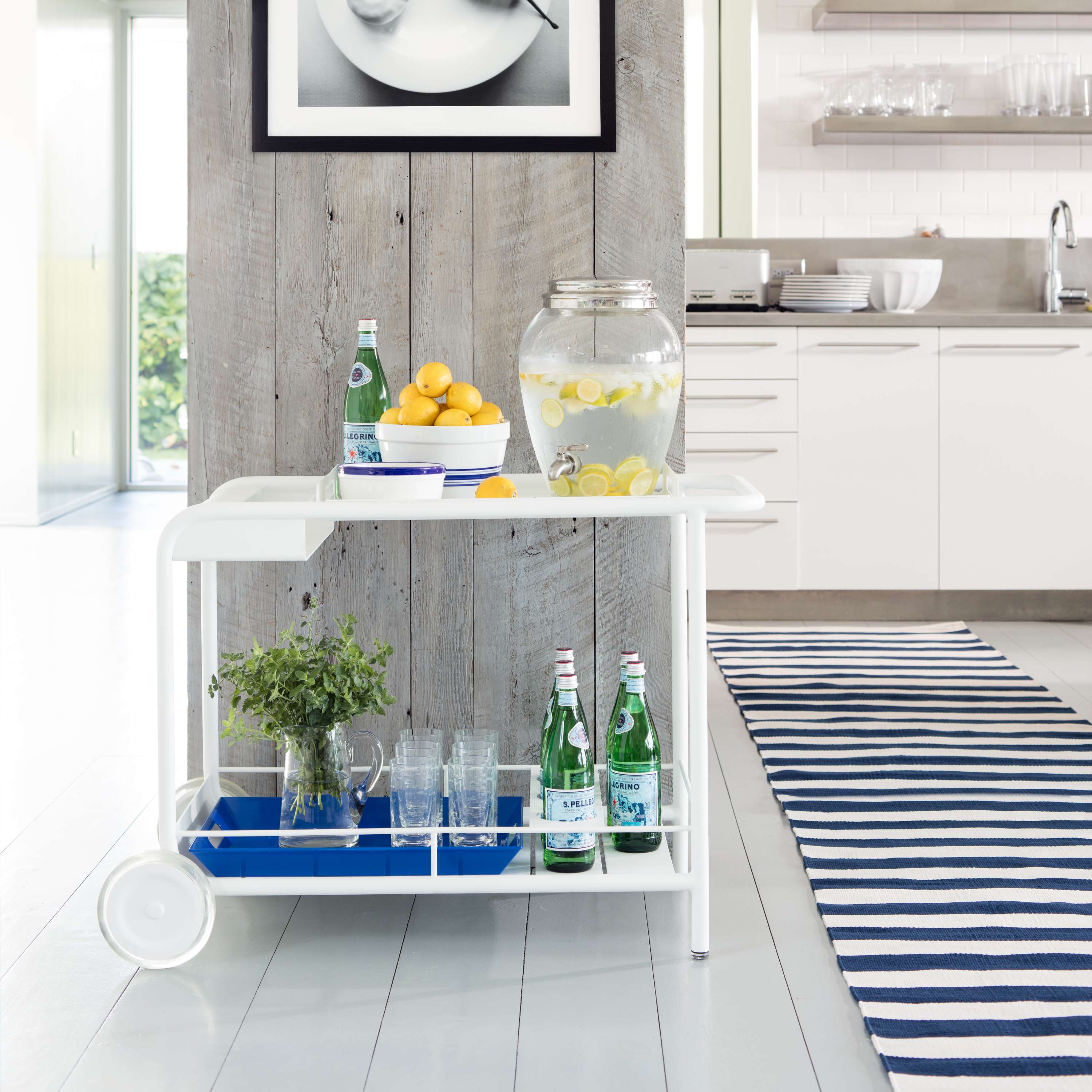 When choosing your kitchen rug (or rugs!) keep these three criteria at top-of-mind: Size, Color/Design and Construction.
Size
Decide what size rug will fit best in your kitchen and how much of your floor you want to cover. Ideal rug sizes include traditional runners (2.5 x 8 or 12 feet), 2×3, 4×6 and 5×7.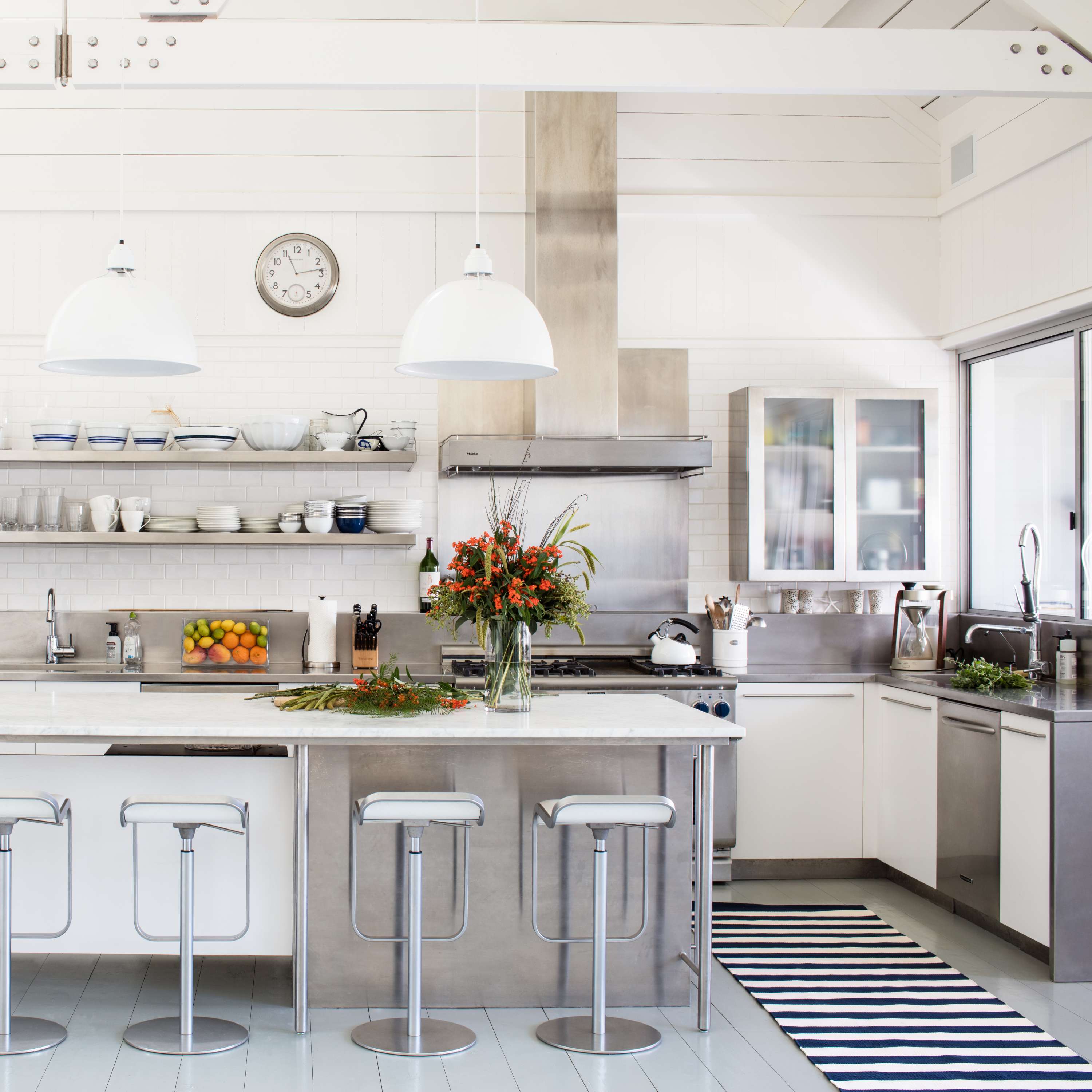 Runners are ideal for filling in narrow spaces, like those between a kitchen island and nearby counters.
As an added benefit, long runners can also make your kitchen look bigger! An ideal choice for smaller spaces.
For more open, spacious kitchen designs (usually ones without an island), larger rugs can be the perfect addition. Think 4×6 sizes and up!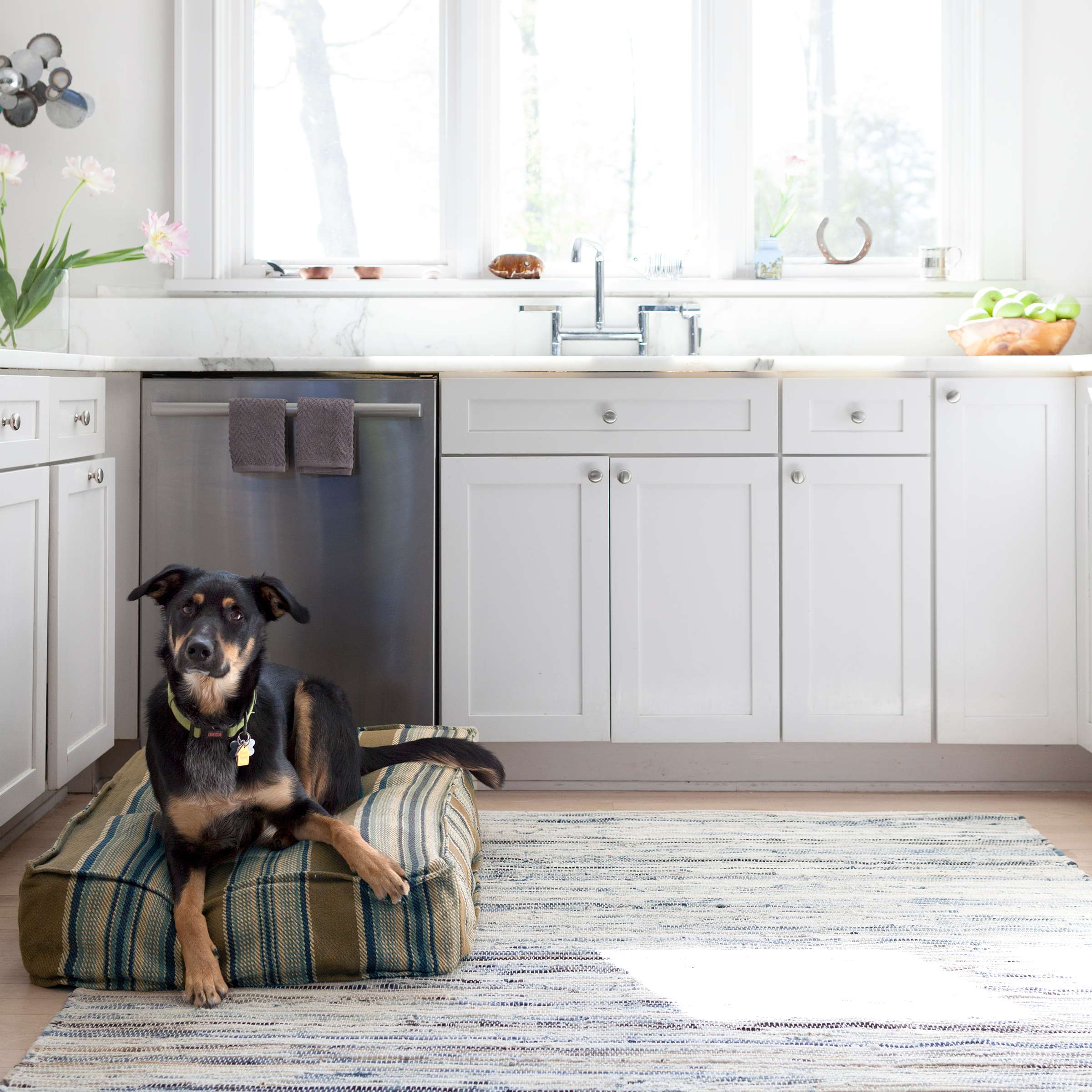 Large rugs add warmth and offer the opportunity to showcase an eye-catching pattern and bold color palette. As a rule of thumb, we recommend leaving at least six inches of space (and no more than four times that) between the edge of your rug and the edge of your wall or cabinets.
Color and Design
This is the fun part! Look around the space and decide what color palette you want to add to or establish with your rug. If your kitchen is neutral, consider adding a pop of color to the room for visual appeal and character.
Also, you'll need to decide whether or not you want to stick with a solid rug or one with a fun pattern (for the record, we're always big fans of adding color and pattern whenever possible). Stripes are timeless and classic while diamond and herringbone patterns offer just a touch of contemporary charm. You really can't go wrong when it comes to choosing a patterned rug for your kitchen. Most importantly, it should make you smile!
Construction
Since your rug will live in a high-traffic area and be prone to spills and other kitchen messes, you'll want to choose a rug that's stylish yet super-durable. In this case, look no further than indoor/outdoor rugs, or those constructed of polypropylene or PET (recycled polyester).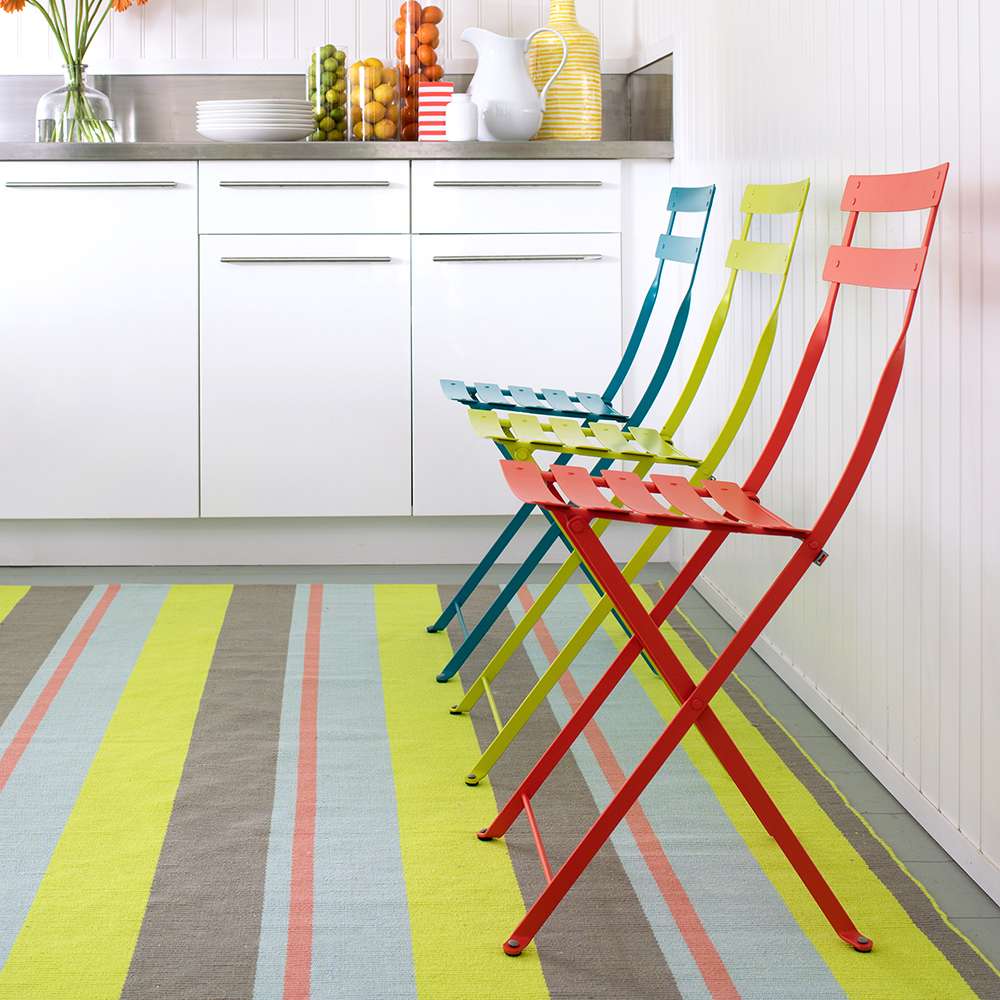 These rugs are ultra-durable and are a breeze to clean! Scrub them, bleach them, hose them off, they'll look like new in no time–you'll want these rugs all throughout your home!
So, to recap, always keep these three things in mind when searching for the perfect kitchen rug:
Size: Choose a rug that will fit nicely in the physical design of your kitchen. Not too big and not too small.
Color and Design: Think fun patterns and your favorite colors!
Construction: Opt for an indoor/outdoor rug so you don't have to stress about the mess.
Which Dash & Albert rug would you put in your kitchen? Tell us in the comments below!
Was this article helpful?